Our whole family is familiar with what goes into holiday travel with pets. For example, as I write this article, I'm waiting for my older daughter to arrive for the holidays with her dog, Walter.
Earlier this month, my husband and I traveled to our vacation home with our two dogs, Oscar and Sadie. That's so we could spend the holidays with family but also with our pets.
I know we're not alone. Some research says that of the seven in 10 U.S. households with pets, not all are sure if they're going to travel with their pets.
Truth be told, if you haven't already lined up a house- and pet sitter or paid for boarding, you have two options. One, take your pets with you when you travel. Or, two, you're gonna have to stay home for the holidays.
How to travel at the holidays with pets
But let's say that you're taking your pets with you on your holiday travels. Well, there's still a bunch of stuff you need to prepare for so everyone can have a healthy and happy holiday.
Bounce compiled a list of eight ways to prepare for holiday travel with a pet using information from different sources, such as The Humane Society, Best Friends Animal Society, and American Kennel Club, among other sources.
Plus, I've added tips from my own firsthand experience of traveling frequently with my pets. I think overall you'll find lots of useful information for any holiday trips you have planned or anytime you hit the road with your pets.
Stock up on pet meds
Before we left for our vacation house for Christmas, I packed my dog Sadie's various medications. She has arthritis so I always need to have Rimadyl on hand. Also, she is dealing with some chronic eye issues, so I made sure to pack her eyedrops.
But you know what I completely forgot? My dogs' monthly heartworm medicine.
Since this is a prescription, I had to call our veterinarian at home and ask them to ship me a box of Heartgard. Of course, I had to pay for the medicine but also I had to pay for expedited shipping.
Another option, if your vet allows it, is to send a prescription to Chewy.com. They have a pet pharmacy.
Bring your pet's food
That's a no brainer–pack your pet's food. However, if you're traveling by air, this can be challenging.
So, here's what I do: I'll order a bag of dry food on Chewy and have it sent ahead to my location. That way I don't have to schlep that 40-pound bag of food or have it take up space in my suitcase.
Pack your pet's vaccination records
Let's say you want to take your dog to an indoor dog park or playground during the holidays. Many places require proof that your dog is up to date on their vaccinations. This includes rabies and bordetella, which helps prevent some cases of kennel cough.
Truth is, if you ever board your dogs somewhere, they'll need to have the bordetella vaccine anyway. Either way, it's a good idea to have paperwork from your vet to show that your pet is up to date on their shots.
Be prepared for anxious pets
Just like many humans, pets get travel anxiety. This could be from the stress of the change in everyone's demeanor before travel–yes, they can sense it.
Or, this anxiety is a bona fide fear of being in a moving vehicle. Also, dogs can get car sick just like human's do.
If your dog is a terrible traveler, talk to your vet about prescription medicine that could help. It could be anti-anxiety pills or anti nausea medicine to help with motion sickness.
Finally, one study published in Physiology & Behavior showed that music can help calm an anxious pet. So consider making a playlist for your trip. Not only will it keep you entertained in the car, but also it could help your pet relax–especially if it's music they've heard played at home.
Dogs traveling by air need a pet carrier
Ensure any pet carrier you're using is the right size for your dog. Also, if you're hoping to stow your dog under the seat in front of you in the airline, make sure the carrier will fit. This article from IATA (International Air Transport Association) offers tips on safe air travel with animals.
Also, many airlines charge an extra fee to bring your pets along. For example, JetBlue charges $125 each way to bring a pet along.
The airline limits two pets per passenger and counts your pet carrier as a personal item. Check your airline's specific requirements.
Pet Travel recommends that you go for carriers with zippers (not snaps) and waterproof bottoms. Finally, make sure to get your pet accustomed to the carrier before traveling. You can leave it out in your house so the dog can climb in whenever they want. Or, you can take them out on small practice trips in the car.
Pack a doggie bag for holiday travel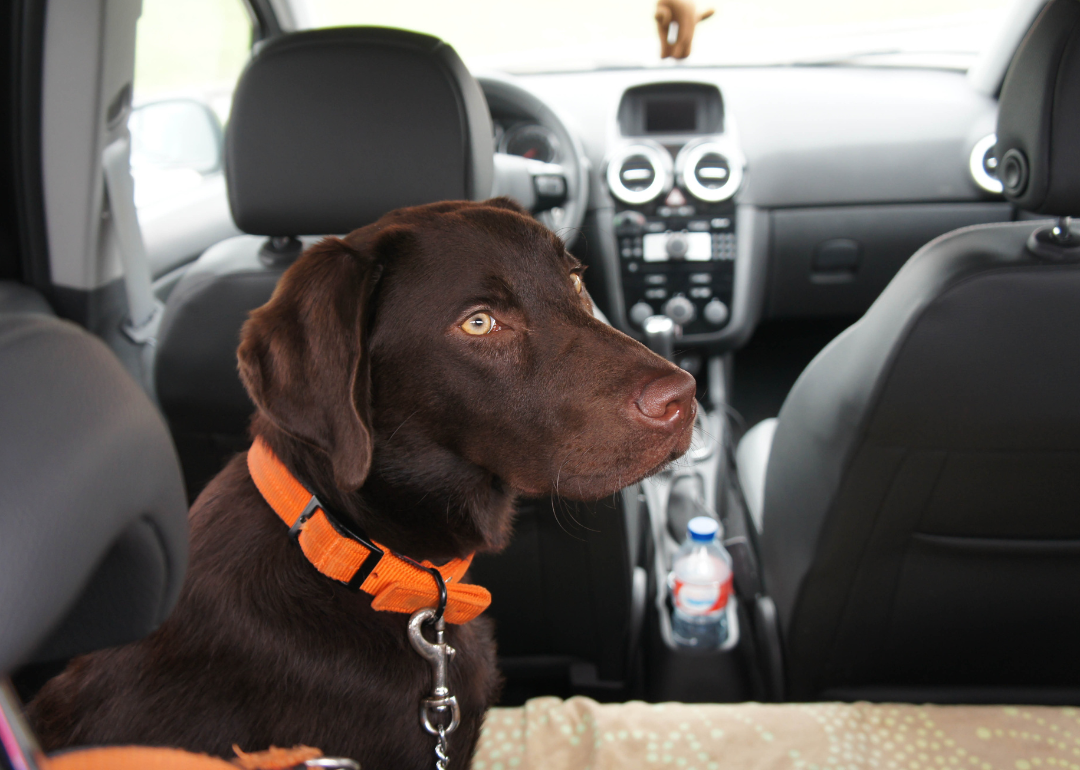 Canva
Create a checklist that includes necessary supplies for your dog. When we're ready for a road, we'll put together a Tupperware-like container of water for the dogs if they get thirsty. Also, we'll make sure we have enough poop bags and hand sanitizer, too.
Finally, we'll give the backseat car cover a good wash beforehand. Then, we'll add a few extra blankets so the dogs can snuggle on them if we'll be driving close to their bed time.
Stick to your pet's schedule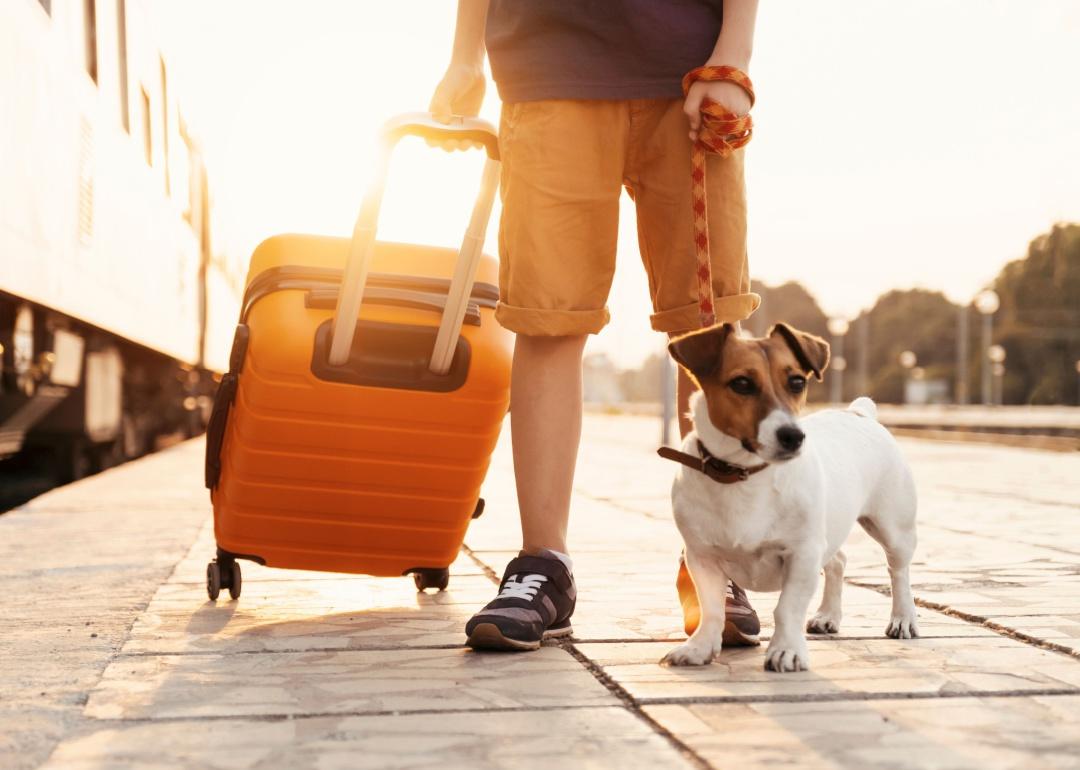 Larina Marina // Shutterstock
Try as much as possible to stick to your dog's schedule. A routine gives a pet a semblance of familiarity in an unfamiliar place.
This can be the most challenging during holidays and other special days when your schedule is topsy-turvy. However, it's crucial to maintain as much of their usual daily routine as possible.
Feed them at the same time and walk them, too. In fact, you may want to give them extra walks (if weather permits), because a tired pup is a less stressed pup.
Be prepared for a vet emergency
When my daughters were little and we were traveling, I always scoped out Urgent Care Centers before we arrived. That way, if we had an emergency, I had a sense of how close or far away the hospital was.
It's the same with your pets. You should research nearby veterinary hospitals at your destination.
I was thrilled to discover that the town where our vacation home is has a 24-hour veterinary hospital. Thankfully, we haven't had to use it. However, knowing it's close by gives me peace of mind.
Finally, you can check a site like Emergency Vets USA. They have a database for each state and major city.
This is also good advice when planning a dog-friendly vacation at any time during the year, not just during the holidays.
Portions of this story originally appeared on Bounce and was produced and distributed in partnership with Stacker Studio.